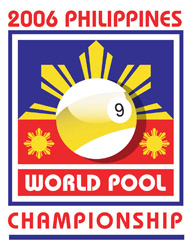 Play has started in the
World Pool Championship
.
This is the major event on the pool sports calendar. It runs from November 4-12 at the Philippine International Convention Center, Manila. The winner will receive $100,000.
17 year-old Wu Chia-ching from Taiwan is the defending champion. He'll have lots of tough competitors in Manila. There's plenty of top Asian players on site, mainly from the host nation and Taiwan.
Some of the favorites are Efren Reyes (Philippines), Ralf Souquet (Germany), Earl Strickland (USA), Mika Immonen (Finland), Oliver Ortmann (Germany), Marlon Manalo (Philippines) and Thorsten Hohmann (Germany).
Before the tournament a number of qualifiers were held. A total of 14 players made it through to the main event:
Philippines (8): Roberto Gomez, Eduardo Villanueva, Lee Van Corteza, Antonio Lining, Leonardo Andam, Israel Lota, Jharome Pena and Rudy Morta
Taiwan (4): Nien Rong-chih, Hsia Hun-kai, Lu Hsun-chen and Chin ju-chen
Singapore (1): Tan Tiong Boon
Japan (1): Tomoo Takano
The 128 players have been drawn into 32 four-man groups. The top two from each group advance to the single elimination stage.
Group matches are race-to-eight. The opening two rounds in the single elimination cup are best-of-19. After that the format is first-to-11. The final is best of 33 racks. All matches are alternate breaks.
See also:Related posts: