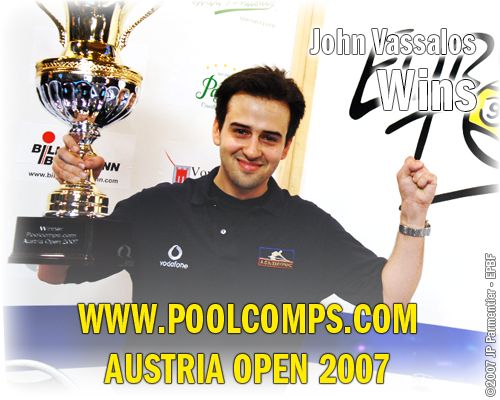 John Vassalos became the first Greek winner on the Euro Tour by capturing the
PoolComps.com Austra Open
.
In the final he defeated Malta's Tony Drago 10-9 to win €6500. Drago took home €3900 for the runner-up position.
In the semi-finals Vassalos beat Nick van den Berg from Netherlands and Drago bested Markus Juva (Finland) 10-7.
This was Vassalos' first win on the Euro Tour. He was also the first Greek to win. Vassalos' previous best was third in the 2004 Austria Open.
The win takes Vassalos from 199th to 82nd in the
Euro Tour Ranking
. Losing finalist Drago moves from 15th to 11th.
Konstantin Stepanov (Russia) advances five places to the top of the rankings. Jonni Fulcher from Switzerland also improves five positions to sit in second place. Niels Feijen (Netherlands) drops from first to third.
The tournament was played 14-17 June at Patrick's Canadian Taverne, Rankweil, Austria. It was the fourth Euro Tour event of the season. Next stop is the Netherlands Open (September 12-16).
See also:Related posts: