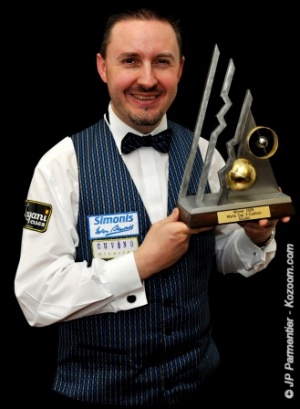 Frédéric Caudron from Belgium successfully defended the
World Cup event in Sluiskil, Netherlands
.
In the final Caudron defeated fellow Belgian Jozef Philipoom 3-0. The frame scores were 15-4, 15-13 and 15-11. Tying for third were Torbjörn Blomdahl (Sweden) and Tayfun Tasdemir from Turkey.
This was the Belgian's second consecutive win in Sluiskil and seventh World Cup win. He earned € 5.500 for the victory. Philipoom got € 3.500 for second place.
Last season's Tour champion Dick Jaspers (Netherlands) had the highest general average among the 150 competitors with 1.934. Kouji Funaki (Japan) had the highest single match average of 3.000. Nikos Polychronopoulos (Greece) had the highest run with 13.
Jaspers went out 3-1 to tournament surprise package Philipoom in the last 16. It was a high-class match with Philipoom averaging 2.400 and Jaspers 2.315.
With this being the season opener Caudron tops the
World Cup Ranking
. He's followed by Philipoom, Tasdemir and Blomdahl.
Caudron drops from third to fourth in the
World Players Ranking
. Philipoom leaps fom 40th to 16th. Jaspers holds on to the lead and Daniel Sánchez (Spain) stays in second.
The event took place 19-25 January 2009 at the Congrescentrum 't Meulengat, Sluiskil, Netherlands. It was the first of four events in the 2009 World Cup. The next event is in Antalya, Turkey, 5-10 May.
See also:
Related posts: