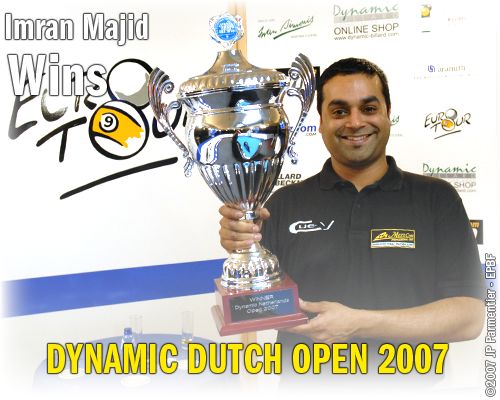 England's Imrad Majid won his second Euro Tour title by capturing the
Dynamic Netherlands Open
.
In the final he defeated Roman Hybler (Czech Republic) 10-7 to win €5000. Hybler took home €3300 for the runner-up position.
In the semi-finals Majid beat Ruslan Chinahov from Russia 10-8 and Hybler defeated England's Mark Gray 10-6.
This was Majid's second win on the Euro Tour. He also won the 2006 Dynamic Billiard Italian Open.
The win takes Majid from 25th to sixth in the
Euro Tour Ranking
. Losing finalist Hybler moves from 28th to 14th.
Konstantin Stepanov (Russia) and Jonni Fulcher (Switzerland) hold on to the top two places. Daryl Peach (England) improves two positions to No. 3.
The tournament was played 12-15 June at the House of Billiards, Weert, Netherlands. It was the fifth event of seven this season. Next stop is the Swiss Open (October 24-27).
See also:Related posts: