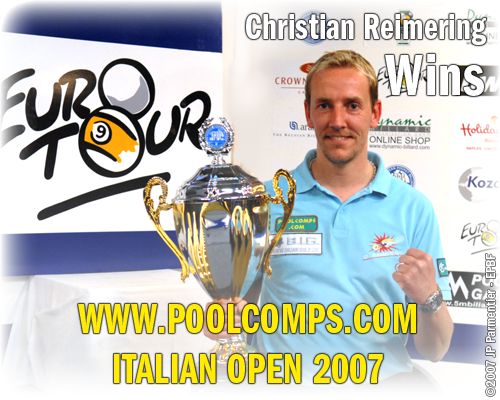 Christian Reimering from Germany won the
PoolComps.com Italian Open
.
In the final he defeated Russia's Konstantin Stepanov 10-6 and won €5000. Stepanov took home €3300 for the runner-up position.
In the semi-finals Reimering beat Marco Tschudi from Switzerland and Stepanov defeated England's Darren Appleton .
This was Reimering's second win on the Euro Tour. He also won the 2005 Costa del Sol Open in Malaga, Spain.
Stepanov is in terrific form this year. He was second in the Czech Open and also won a silver and a bronze medal in the recent European Championships.
Defending champion Imram Majid (England) ended up in 33rd position.
With this victory Reimering jumps from 22th to sixth in the
Euro Tour Ranking
. Losing finalist Stepanov moves from 10th to fifth.
Oliver Ortmann (Germany) leaps past Niels Feijen (Netherlands) to become the new ranking leader. Fabio Petroni (Italy) moves from fourth to third and Thomas Engert (Germany) drops from second to fourth.
The tournament was played 11-14 April at Castel Volturno, Napels, Italy. It was the second Euro Tour event of the season. Next stop is the German Open (May 2-6).
See also:Related posts: