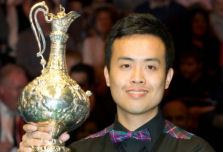 Marco Fu from Hong Kong won the
Royal London Watches Grand Prix
for his first ranking title.
In the final Fu downed Ronnie O'Sullivan (England) 9-6. O'Sullivan has now not won a ranking title for more than 30 months.
Former world champion Shaun Murphy (England) and Gerard Greene (N.Ireland) both lost out 6-5 in the semi-finals.
Fu received £75,000 for the victory. O'Sullivan walked away with £35,000. Tom Ford (England) won £24,000 for his 147 tournament high break.
This was Fu's first ranking title and second final. He lost 9-2 to Stephen Lee (England) in the final of the 1998 Grand Prix.
The win took him from 35th to 15th in the
provisional rankings
. O'Sullivan's runner-up spot moved him from No.6 to No.2. World champion John Higgins from Scotland still leads the list. Shaun Murphy (England) sits in third.
The event took place at the Aberdeen Exhibition and Conference Centre, Aberdeen, Scotland Oct 13-21, 2007. It was the second tournament of seven on the 2007/2008 Main Tour. Next up is the Northern Ireland Trophy 4th November.
See also:Related posts:Shameless plugs: