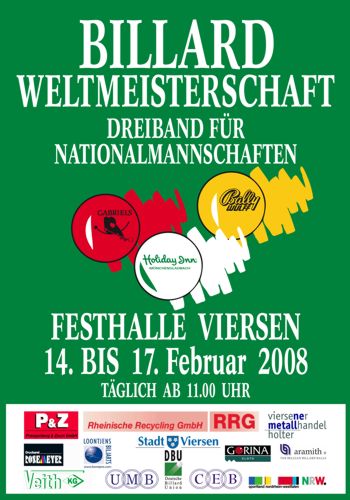 For the fourth time in a row and eighth overall Sweden won the
World Team Three Cushion Championship
.
The winning team consisted of Torbjörn Blomdahl and Michael Nilsson. In the final they won 2-0 over Netherland's duo, Raymond Burgman and Dick Jaspers.
South Korea and Spain tied for third place in an event with 20 teams from 19 countries.
Blomdahl has played on all of eight winning teams. Nilsson has six golds.
Sweden had a perfect 10-0 record in the event. They also had the highest general average of 1.664. Germany had the highest single game average with 2.117.
Of all the players Jaspers had the highest general average of 2.171. Blomdahl had a 3.333 to top the single game averages. He also had a perfect set where he made a run of 15 from his first inning. This has only happened three times in the last 10 years.
The tournament was played 14-17 February at Festhalle in Viersen, Germany.
See also:Related posts: