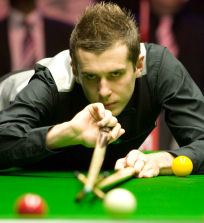 Mark Selby from England won the
Welsh Open
for his first ranking title.
Selby made a strong comeback from 8-5 down in the final to edge Ronnie O'Sullivan (England) 9-8. It must have been particularly sweet since he lost 9-8 to O'Sullivan in the recent UK Championship.
For the fourth straight ranking tournament 2006 world champion Shaun Murphy (England) lost out in the semi-finals. This time he was beaten 6-3 by O'Sullivan. Scotland's Stephen Hendry lost 6-4 to Selby in the other semi-final.
Defending champion Neil Robertson (Australia) was beaten 5-3 by England's Allister Carter in the third round.
Selby received £35,000 for the victory. It was his second major title, having also captured the Masters in January.
O'Sullivan won £17,500 as runner-up. He was looking for his second consecutive ranking win, having captured the UK Championship in December. In addition he won the £2,000 high break prize for his 143 against Murphy.
The win lifts Selby from fifth to fourth in the
provisional rankings
. O'Sullivan stays on top. Shaun Murphy is the new No.2 after swapping positions with Stephen Maguire (Scotland).
The event took place at the Newport Leisure Centre, Newport, Wales Feb 11-17, 2008. It was the fifth ranking tournament of seven on the 2007/2008 Main Tour. Next up on the snooker calendar is the China Open which starts 23rd March 2008.
See also:Related posts:Shameless plugs: