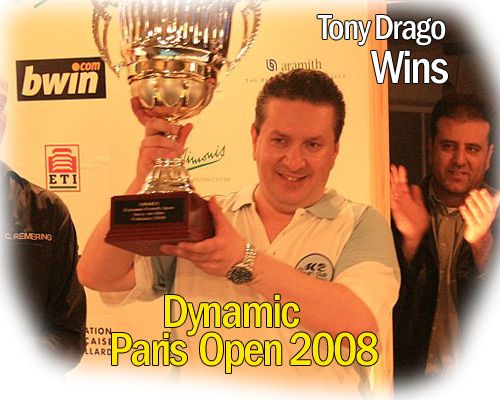 Tony Drago from Malta won his first Euro Tour title in the inaugural
Dynamic French Open
.
In the final he defeated Christian Reimering from Germany 10-6 to win €6000. Reimering took home €3800 for the runner-up position.
In the semi-finals Drago hammered Finland's Markus Juva 10-3 and Reimering defeated Marco Tschudi (Switzerland) 10-7.
This was Drago's first win on the Euro Tour in his fourth final. It must have been a welcome triumph considering he recently lost his place on snooker's Main Tour.
The win takes Drago all the way from 52nd to fifth in the
Euro Tour Ranking
. Losing finalist Reimering moves from 13th to second. Mark Gray (England) stays in first place while Bruno Muratore (Italy) improves one position to third.
The tournament was played 20-23 February at the Leader Billard Club, Paris, France. It was the first event of seven on the 2008 Euro Tour. The next stop is the Dynamic Italy Open which runs from 10-12 April 2008.
See also: