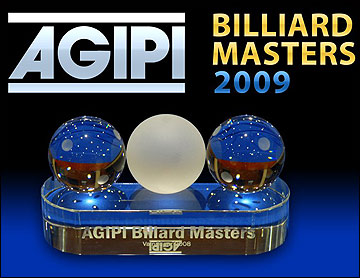 Dick Jaspers from Netherlands won the
2009 AGIPI Billiard Masters
.
In a high-quality final world No.1 Jaspers defeated defending champion Torbjörn Blomdahl (Sweden) 50-39. Blomdahl went out in front early helped by a run of 11, but Jaspers rebounded with some excellent play. His final average was 2.63 compared to Blomdahl's 2.05.
Belgians Frédéric Caudron and Roland Forthomme tied for third.
This win must have been extra sweet for Jaspers as he lost to 50-26 to Blomdahl in the final of last year's first running of the event.
Including bonuses Jaspers earned €20.550 for the victory. Blomdahl took home €14.450.
Players earned bonuses for runs of 10 or more and games won in 25 innings or less. Prizes were also awarded to the three players with highest general averages.
Jaspers had the highest run of the tournament with a 20 in the qualifying rounds. Caudron's 15 was the highest in the final stages. Kyung-Roul Kim had the highest general average of 2.043. Of those reaching the final stages Jaspers' 1.954 topped the list. Eddy Merckx from Belgium won two matches in only 17 innings, resulting in the highest special average of 2.94.
The event's final stage took place 12-15 March 2009 at the AGIPI Auditorum, Schiltigheim, France and was televised live on
Eurosport
.
See also: