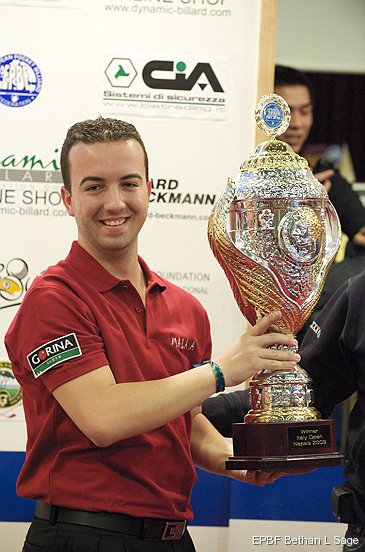 David Alcaide from Spain won the
2009 Italy Open
for his first ever Euro Tour title.
In the final Alcaide defeated Germany's all-time Euro Tour leader Ralf Souquet 9-5. The victory was worth €5000 with Souquet getting €3300 for second place.
The semi-finals saw Alcaide trounce England's Craig Osborne 9-2 and Souquet scrape past countryman Marko Vogel 9-4.
Alcaide's previous best on the Euro Tour were three semi-final spots. It was Spain's second win with Samir Kaddur winning the 2004 Denmark Open. This was Souquet's 25th final, of which he has won a Tour-leading 15 times. The German legend is on a terrific run. His last six finishes is 5th, 1st, 1st, 5th, 3rd and 2nd.
Defending champion Darren Appleton (England) lost 9-6 to Mateusz Sniegocki (Poland) in the last 32.
The win took Alcaide from 15th to fourth in the
Euro Tour Ranking
. Losing finalist Souquet improved from second to first. Former leader Niels Feijen (Netherlands) dropped to second after a disappointing 9th place and Nick van den Berg (Netherlands) stayed in third.
The tournament was played 26-28 March at the Holiday Inn, Castel Volturno, Italy. It was the second event of seven on the 2009 Euro Tour. Next up is the
German Open
which runs from May 21-23 2009. It will be the 99th event on the Euro Tour but the first with 10-ball.
See also:Related posts: