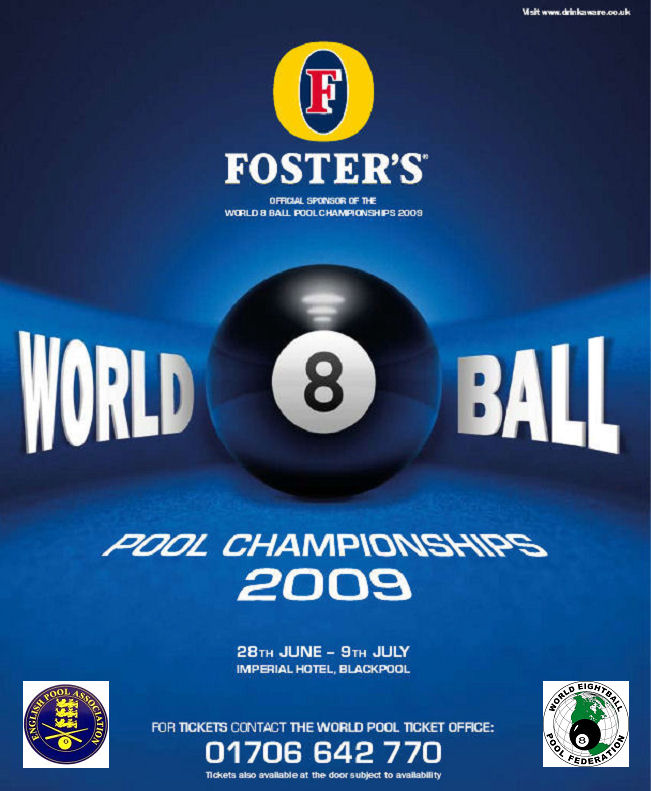 Sue Thompson (Scotland) and Phil Harrison (England) came out on top in the
2009 Foster's World Eightball Pool Championships
.
Thompson defeated England's Emma Cunningham 8-6 in the women's final.
Thompson has reached the final in 14 of her 15 attempts with this being her ninth win. These two have now contested five of the last six finals, with Cunningham tasting victory in 2005.
Harrison beat Mick Hill (England) 11-7 in the men's final to take home the £10,000 cheque. In the semi-finals Harrison defeated Adam Davis (England) 10-7 and Harrison beat Marc Farnsworth (England) by the same score.
This was Harrison's first title. His previous best was four semi finals. Hill won the title in 2005.
The two defending champions went out early this year. Lynette Horsburgh (Scotland) was beaten 6-3 by Collette Henriksen (Wales) in the last 16 and Gareth Potts (England) lost 9-6 to Davies in the quarter finals.
Ben Clark (England) won the Junior title and Gary Swift (England) took gold in the wheelchair division. There were also a number of other events, including teams, Under 21s and Over 50s.
The tournament took place at the Imperial Hotel in Blackpool, England, 28 June - 9 July 2009.
Please note that this is the English version of the game.
Wikipedia
explains the differences in detail. Here is an excerpt:
In the version of pool or Eight Ball played in the United Kingdom and Australia, plain unnumbered red balls and yellow balls often replace the solid and striped balls. If not, the terms "bigs" (9-15) and "smalls" (1-7) are generally used instead. The black ball, however, still typically bears a number eight. Another difference is that the UK table has pockets just larger than the balls, whereas the American table has pockets significantly larger.
See also:Related posts