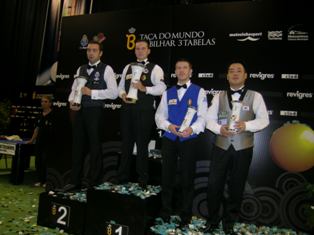 Eddy Merckx from Belgium could lift his first World Cup trophy after capturing the
World Cup event in Porto, Portugal
.
In the final Merckx edged Nikos Polychronopoulos (Greece) 3-2. The frame scores were 15-6, 2-15, 15-6, 9-15 and 15-2.
Surprise men Jae Ho Cho (South Korea) and Jeremy Bury (France) lost out in the semifinals.
Merckx received €5,500 for the win and Polychronopoulos got €3,500 for second place.
Jung Han Heo from South Korea had the highest general average among the 55 competitors with 2.014. He also had the highest single match average of 2.812. Merckx had a perfect 15 for highest run of the tournament.
This was a tournament of upsets, with many of the top players being ousted in the early rounds. Among those failing to reach the last 16 were defending champion Dick Jaspers (Netherlands), Torbjörn Blomdahl (Sweden), Frédéric Caudron (Belgium) and Daniel Sanchez (Spain).
Although this was the first World Cup win for Merckx he has previously won the
2007 European Championship
and the
2008 World Championship
.
Merckx moves from 11th to third in the
World Cup Ranking
. Polychronopoulos improves 11 places to seventh. Caudron and Martin Horn (Germany) hang on to the top two positions.
The Belgian jumps to sixth in the
World Players Ranking
. Jaspers, Sanchez and Caudron are the top three.
The event took place 29 June - 5 July 2009 at the Centro de Congressis Matosinhos, Porto, Portugal. It was the third of five events in the 2009 World Cup. The next event is in Suwon, Korea, 16-21 November 2009.
See also:Related posts: