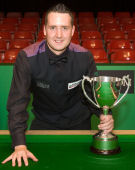 Sue Thompson (Scotland) and Gareth Potts (England) won the
World Eightball Pool Championship
.
Thompson, who now has a record eight world titles, defeated Northern Ireland's Emma Cunningham 8-3 in the deciding match. These two players have contested the last four finals, with Cunningham tasting victory in 2005. Thompson has reached the final in each of her 13 attempts.
Potts beat Mick Hill (England) 11-4 in the men's final. This was Potts' second world title. He also won in 2005. In 2000 he won the junior championship.
Sean Conway (Ireland) won the Junior title and Tony Southern (England) came out on top of the wheelchair division. There were also a host of other events, including teams.
The tournament took place in Blackpool, England, 2nd-12th July.
Please note that this is the English version of the game.
Wikipedia
explains the differences in detail. Here is an excerpt:
In the version of pool or Eight Ball played in the United Kingdom and Australia, plain unnumbered red balls and yellow balls often replace the solid and striped balls. If not, the terms "bigs" (9-15) and "smalls" (1-7) are generally used instead. The black ball, however, still typically bears a number eight. Another difference is that the UK table has pockets just larger than the balls, whereas the American table has pockets significantly larger.

See also:
Related posts