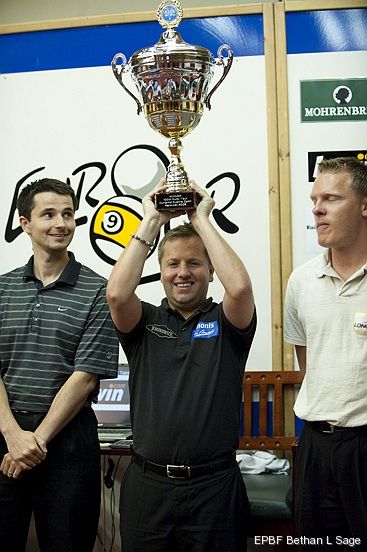 Sweden's Marcus Chamat won the
2009 Austria Open
.
Chamat defeated reigning 10-ball world champion Darren Appleton (England) 9-6 in the final to earn the €5000 first prize. Majid received €3000 for second place.
In the semi finals Chamat beat virtual unknown Jakob Belka from Germany 9-6 and Appleton downed five-time ET winner Niels Feijen (Netherlands) 9-7.
This was Chamat's third Austria Open title and fourth win in total, from seven finals. It puts him at No.6 on the
all-time list
.
Chamat moves from fifth to third in the
Euro Tour Ranking
. Appleton jumps from 19th to eighth. Ralf Souquet (Germany) holds a massive lead atop the list and Feijen stays in second place.
This was the 100th event on the Euro Tour. The very first was the 1992 Belgium Open. Mika Immonen (Finland) defeated Tom Storm (Sweden) in that event. Souquet is the all-tim leader with 16 wins, followed by fellow Germans Oliver Ortmann and Thomas Engert with 13 and nine wins respectively.
The tournament was played 19-22 August at Patricks Canadian Taverne, Rankweil, Austria. It was the fourth event of seven on the 2009 Euro Tour. Next up is the
Netherlands Open
which runs from September 17-19 2009.
See also:Related posts: