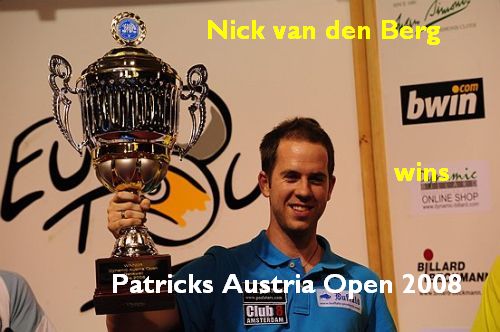 Nick van den Berg from Netherlands won his fourth Euro Tour title by capturing the
Patricks Austria Open
.
In the final the two-time Euro Tour season winner dominated England's two-time Euro Tour titlist Imran Majid 9-2. The victory was worth €6000. Majid received €3800 for his runner-up finish.
In the semi-finals van den Berg defeated fellow Dutchman Niels Feijen 9-2 while Majid beat Poland's Mateusz Sniegocki 9-3.
This was van den Berg's second win in the Austria Open and fourth win in total. He has previously won the 2002 Austria Open, 2005 Germany Open and 2006 Czech Open. This puts him in fifth place on the
all-time list
.
Defending champion, John Vassalos from Greece did not take part in the event.
The win takes van den Berg from ninth to fifth in the
Euro Tour Ranking
. Losing finalist Majid moves from fifth to second. Mark Gray (England) once again holds on to the top position. Bruno Muratore (Italy) sits in third place.
The tournament was played 12-14 June at Patricks Canadian Taverne, Rankweil, Austria. It was the fourth event of seven on the 2008 Euro Tour. The next stop is the Dynamic Netherlands Open which runs from 11-13 September, 2008.
See also:Related posts: