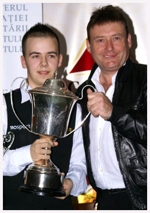 Luca Brecel and Wendy Jans (both from Belgium) won gold medals in the
2010 European Snooker Championships
.
15-year-old Brecel defeated Dutchman Roy Stolk 7-4 in the final of the men's event while home favourite Jans defeated Diana Stateczny (Germany) 5-3.
In the men's semis Brecel beat Iceland's Kristján Helgason 6-3 while Stolk defeated Roy Fernandez (Israel) 6-4.
In the ladies' semis Jans overcame Anna Mazhirina (Russia) 4-2. Stateczny whitewashed Germany's Natascha Niermann 4-0.
Brecel is the youngest ever winner of the European Championship. It was his third title in a short span. He also won the 2009 European U-19 Championship and recently added the Belgian Championship.
It was Jans' fifth European title. She also won in 2004, 2005,
2006
and
2009
. In addition she captured the
2006 IBSF World Amateur Championship
.
The winner of the men's title is usually awarded a place on the Main Tour but beacause there is a 16 year age requirement EBSA are consulting with World Snooker before making the formal nomination
Defending champion David Hogan (Ireland) lost 4-2 to Roy Fernandez in the last 32.
Former top pro Darren Morgan (Wales) won the Masters division. In the final he beat 2000 winner Joe Delaney (Ireland) 6-0. Morgan also won in 2007 and 2009. He opted for the Men's event in 2008, where he made it to the semifinals.
Hogan and Kuldesh Johal (England) had the highest breaks of the tournament with 141s.
The event was held 27 May - 5 June, 2010 at the Rin Grand Hotel, Bucharest, Romania.
The European Main Tour play-offs (International Open) was played just before the tournament. Kurt Maflin (Norway) won the event to reclaim a place on next season's Main Tour.
See also:Related posts: