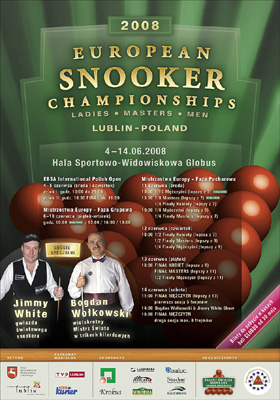 David Grace and Reanne Evans from England won gold in the
European Snooker Championships
.
Grace edged fellow Englishman Craig Steadman 7-6 in the final of the men's event while Evans defeated Emma Bonney (England) 5-3.
Grace defeated Andrew Pagett (Wales) 6-4 in the semis while Steadman beat former top pro Darren Morgan (Wales) 6-3.
For the second year running Evans defeated Michelle Sherwin (Ireland) 4-0 in the women's semi-finals. Bonney beat Belgium's Isabelle Jonckheere 4-1.
This was Grace's first major title. Evans won the 2007 European Championship and has four World Ladies Snooker Championships and two IBSF World Amateur Ladies Championships.
With this victory Grace won a spot on the 2008/2009 Main Tour.
Alan Trigg completed the English domination with victory in the Masters division. In the final he beat Kieran McMahon (Northern Ireland) 6-4. McMahon also finished runner-up last year, to Darren Morgan.
Bobby Cruickshank from Scotland had the highest break of the tournament with a 119.
The event was held 5-14 June at the Sport Hall GLOBUS, Lublin, Poland.
The European Main Tour play-offs was played just before the tournament. Former pro Stefan Mazrocis (Netherlands) won the event and wins back a place on next season's Main Tour.
See also:Related posts: