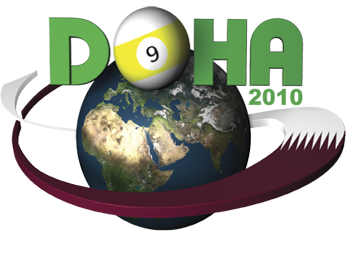 Filipino Francisco Bustamante won the
2010 World 9-Ball Championship
.
Bustamante grabbed $36,000 for defeating 2005 runner-up Kuo Po-Chen (Taiwan) 13-7 in the final. Gomez got $18,000 for finishing second.
In the semifinals Bustamante overcame countryman Antonio Lining 11-5. Po-Chen edged two-time world champion Johnny Archer (USA) 11-10.
This was the first world 9-ball championship since 2007. Daryl Peach (England) won the trophy at that occasion. This time he was knocked out in the early stages.
Bustamante had lost in two previous world pool finals, the 2002 World 9-ball Championship and the
2008 World Straight Pool Championship
. Teamed with Efren Reyes he won the
2009 World Cup of Pool
.
Bustamante suffered tragedy during the 2002 event. His daughter died the day before the final, but his wife wanted him to play.
The event was dominated by the Asian contingent. They had six of the eight quarterfinalists.
The tournament ran from 29 June to 5 July at the Qatar Billiards & Snooker Federation, Dohar, Qatar.
See also:Related posts: