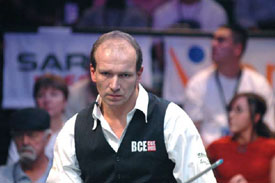 Germany's Oliver Ortmann won the
World Straight Pool Championship
.
In a tight final he beat surprise package Huidji See (Netherlands) 200-171. The losing semifinalists were Martin Kempter (Austria) and Danny Harriman (USA).
This was the German's second world title. In 1995 he won the World 9-ball Championship. In straight pool he has won five European titles (1987, 1989, 1990, 2000 and 2006).
Ortmann took home $12,500 for the win. See got $5,500 for his second place finish.
Defending champion Thorsten Hohmann (Germany) lost 200-171 to Kempter in the quarter-finals.
Kempter earnt $5,000 for posting the highest run of the event, a 160 clearance against Dennis Hatch (USA). That's just 14 points less than Hohmann's 174 run from last year and only 22 behind Joe Procita's record for tournament play. Here are the top four runs from the event:
160 Kempter
139 Hohmann
131 Ortmann
117 Dennis Orcollo (Philippines)
There were three women in the 64-player field; Jasmin Ouschan (Austria), and the Korean Cho sisters Bo Ram and Yu-Ram. Ouschan proved that last year's fifth place finish was no fluke by posting an impressive ninth place. The Chos failed to advance from the group stage with 2-5 records.
Word is that matches will be aired online for free at
www.dragonpromotions.com
in the end of the month (July) and later aired on
www.propoolvideo.com
.
The event was held July 9-14 at the Hilton Hotel in East Brunswick, New Jersey, USA.
See also:
Related posts: