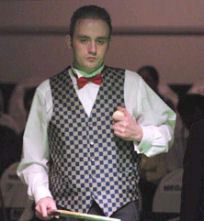 Mike Russell from England won the
2008 World Billiards Championship
.
2006 champion Geet Sethi from India took silver after losing 1821-1342 in the final. Last year's runner-up Chris Shutt (England) and David Causier (England) finished joint third.
Just like last year Russell had the two highest breaks in the event; a 588 and a 272.
He has now won a record nine world pro titles; 1989, 1991, 1996, 1999, 2002, 2003, 2004, 2007 and 2008. Some say it is ten since his name was also engraved on the trophy in 2000, even though there was no world championship that year.
Update:
Billy has informed me that Mike's name now has been removed from the trophy for 2000.
The championship was held July 23-27, 2008 at the Northern Snooker Centre, Leeds, England.
See also:Related posts: