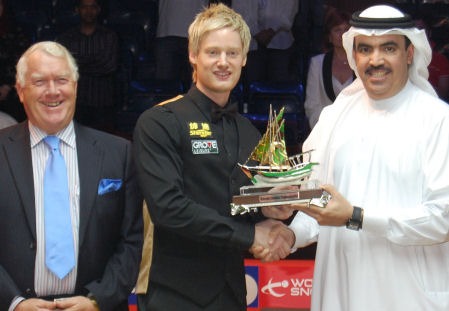 Neil Robertson from Australia won the inaugural
2008 Bahrain Championship
.
The final against Welshman Matthew Stevens started very well for the Australian. He swept the first three frames with breaks of 129, 117 and 96, before Stevens came back strong to lead 7-6. Robertson managed to take the last three frames though to win 9-7.
Stephen Hendry (Scotland) and Mark Allen (Northern Ireland) lost out in the semi-finals. This was Hendry's 82nd ranking event semifinal. In contrast it was Allen's second.
Robertson received £48,000 for the victory. Stevens got £22,500 for his runner-up spot.
Marcus Campbell had the highest TV stage break of the tournament with the 147 maximum he made against Ahmed Al Khusaibi (Oman) in the wildcard round. Chinese Liang Wenbo made a 147 in the qualifiers for the event.
This was the third ranking title for Robertson. He's yet to lose a final. Stevens was looking for his second title in ranking events.
The tournament was plagued by the withdrawals of John Higgins (Scotland), Ding Junhui (China) and Mark Selby (England) caused by the clash in dates with the Snooker Premier League. In addition Englishmen Ronnie O'Sullivan and Steve Davis dropped out for health reasons.
Robertson moves from 21st to 14th in the
provisional rankings
. Stevens advances 11 places, from 33rd to 22nd. There are no changes in the top five. O'Sullivan keeps his lead, in front of Stephen Maguire (Scotland), Ryan Day (Wales), Selby and Allister Carter (England).
Robertson jumps from 18th to 11th in the
ELO Ratings
. Stevens advances 15 places, from 27th to 12th. No changes in the top three here either. O'Sullivan is still the clear frontrunner, followed by Higgins and Maguire.
The event took place at the Bahrain International Exhibition Centre, Manama, Bahrain 8-15 November, 2008. It was the fourth ranking tournament of eight on the 2008/2009 Main Tour. Next up on the snooker calendar is the Maplin UK Championship which starts 13th December.
See also:
Related posts:
Shameless plug: