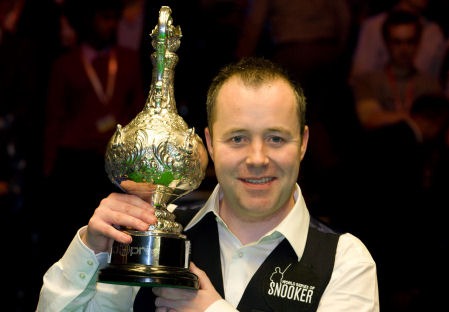 Scotland's John Higgins won the
2008 Royal London Watches Grand Prix
.
The final against Ryan Day (Wales) started very well for the two-time world champion. He built a 7-2 lead before Day came back to 8-7. Higgins managed to snatch the next frame though to win 9-7.
Englishmen Allister Carter and Judd Trump lost out in the semi-finals. Trump is only 19 years old and this was the best result so far of a very promising career.
Defending champion Marco Fu (Hong Kong) was beaten 5-1 by Ronnie O'Sullivan (England) in the second round.
Higgins received £75,000 for the victory. Day got £35,000 for his third ranking event runner-up spot. He's still waiting for that elusive first win.
Fu had the highest TV stage break of the tournament with the 139 he made against Jimmy Michie (England) in the first round.
This was the 19th ranking title for Higgins but first since the
2007 World Championship
.
After unsuccessful attempts of introducing round robin system in recent years they this year returned to the normal cup format, but with a twist. After each round a new draw was made. This way the players didn't know who they would play in the next round until after they had won their match.
Higgins moves from ninth to sixth in the
provisional rankings
. Day advances two places, from fifth to third. O'Sullivan increases his lead atop the rankings and Stephen Maguire (Scotland) stays in second.
Higgins jumps from fifth to second in the
ELO Ratings
. Day also advances three places, from eighth to fifth. O'Sullivan still holds an overwhelming lead and Maguire drops one place to third.
The event took place at the Scottish Exhibition and Conference Centre, Glasgow, Scoland 11-19 October, 2008. It was the third ranking tournament of eight on the 2008/2009 Main Tour. Next up on the snooker calendar is the Bahrain Snooker Championship which starts 8th November.
See also:Related posts:Shameless plug: