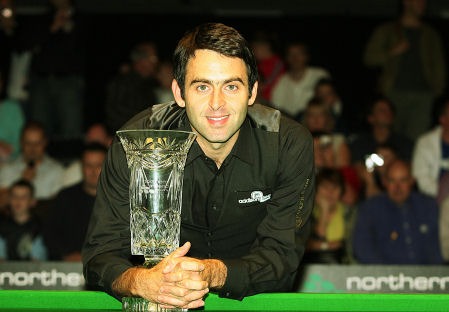 England's Ronnie O'Sullivan won the
2008 Northern Ireland Trophy
.
It was one-way traffic in the final as he defeated fellow Englishman Dave Harold 9-3.
Allister Carter (England) and Scotland's John Higgins lost out in the semi-finals.
Defending champion Stephen Maguire (Scotland) was beaten 5-2 by Harold in the quarter-final.
O'Sullivan received £30,000 for the victory. It was his 21st ranking win and 40th major title. It was also his second consecutive victory after having captured the World Championship in May.
Harold won £15,000 as runner-up. He was looking for his second ranking win. His sole success came in the 1993 Asian Open. Stephen Lee (England) won the £2,000 high break prize for a career-best 145.
The win keeps O'Sullivan firmly in place on top of the
provisional rankings
. Maguire stays in second and Shaun Murphy (England) hangs on to third. Harold moves from 23rd to 14th.
The event took place at the Belfast Waterfront, Belfast, Northern Ireland, August 24-31, 2008. It was the first ranking tournament of eight on the 2008/2009 Main Tour. Next up on the snooker calendar is the Shanghai Masters which starts 29th September.
See also:
Related posts:
Shameless plugs: