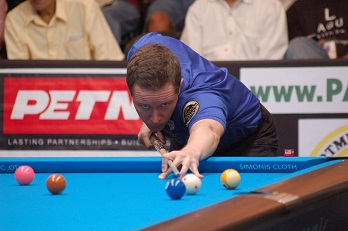 Mika Immonen from Finland won the
2009 World Ten Ball Championship
.
The Finn won a one-sided final against Lee Van Corteza (Philippines) 11-6. Immonen received $60,000 for first place while Van Corteza got $30,000 for finishing second.
In the semifinals Immonen overcame Antonio Lining (Philippines) 9-7 while Van Corteza downed David Alcaide (Spain) by the same score. There was no bronze match this year so they both tied for third and won $15,000 each.
2009 champion Darren Appleton (England) had a fairly successful title defense, reaching the quarterfinals before losing 9-6 to Alcaide.
Exactly as last year the event was dominated by the European and Asian contingent. Amazingly this year they grabbed the 32 first spots on the leaderboard! There were 18 Asians and 14 Europeans.
This was Immonen's second world title. He also won the 2001 9-ball world championship.
It was the third World Tour win of the year for the fabulous Finn after also having captured the
Qatar Open
and the
US Open
.
Immonen now dominates the
WPA rankings
, ahead of Ralf Souquet (Germany) and Appleton.
This will be the only men's world championship of 2009. For the second year in the row there will be no 9-ball world championship.
The tournament was staged from 25-30 November 2009 at the World Trade Center, Manila, Philippines.
See also:Related posts