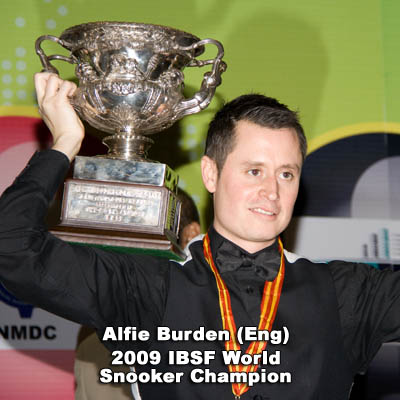 England's Alfie Burden and Ng On Yee from Hong Kong won gold medals at the
2009 IBSF World Snooker Championships
.
Burden beat surprise finalist Igor Figueiredo (Brazil) 10-8 in the men's final while Yee overwhelmed Australia's Kathy Parashis 6-1.
Yu Delu (China) and finished third in the men's event and Bi Zhuqing (China) reached the same position among the ladies.
These were the first world titles for both Burden and Yee. Burden is a former top-32 player on the Main Tour.
Neither of the defending champions competed this year. Thepchaiya Un-Nooh (Thaniland) is currently playing on the Main Tour while three-time winner Reanne Evans (England) could not find a sponsor.
The victory means Burden is set to be nominated for a return to the Main Tour in the 2010/2011 season.
The final in the Masters event saw two former pros clash. Darren Morgan (Wales) beat defending champion Dene O'Kane (New Zealand) 6-0. Morgan also won in 2007. Last year he played in the men's event, where he was knocked out in the last 16.
Highest breaks:
Men: Yu delu (China) 142
Women: Ng On Yee (Hong Kong) 77
Masters: Simon Zammit (Malta) 105
The event was held 15-25 November 2009 at the Hyderabad International Convention Centre in Hyderabad, India.
See also:Related posts: