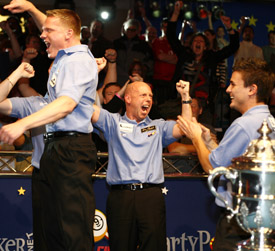 Europe won a much wanted
Mosconi Cup
by beating their US rivals 11-8.
The US team had the best start, leading 4-1 after the opening day. Europe managed to tie up the contest at 5-5 after day two though, and held a 9-6 lead after day three. German Mosconi Cup veteran Ralf Souquet clinched the match by defeating Rodney Morris 6-4.
USA now leads the event with 11-3. Europe's last win came in 2002.
The event took place from December 13-16 at the MGM Grand, Las Vegas, USA. Matches were singles, scotch doubles and scotch quintuples(!) with alternate break.
To avoid soft breaks there was an additional break rule this year. This rule stated that for the breaker to stay on the table at least three balls had to pass the headstring or be potted. The normal rule that a ball needs to be potted off the break for the inning to continue still was in effect.
See also:
Related posts: