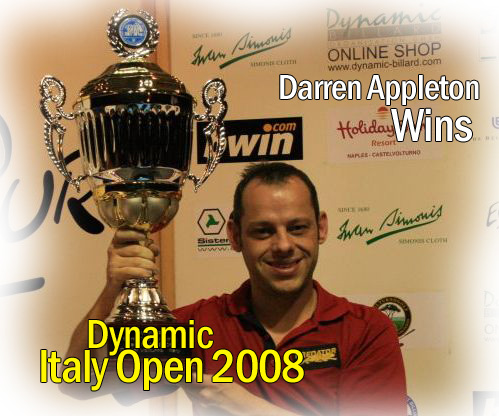 Darren Appleton continued England's recent dominance on the Euro Tour by winning the
Dynamic Italy Open
.
In the final the former UK eightball player defeated home favourite Bruno Muratore 9-2 to win €6000. Muratore took home €3800 as runner-up.
In the semi-finals Appleton defeated countryman Mark Gray 9-6 and Muratore defeated Austria's Martin Kempter 9-2.
This was Appleton's first final appearance on the Euro Tour. He must enjoy this place as his previous best finish, tied third, was in last year's edition of the event.
Defending champion Christian Reimering (Germany) lost 9-8 to Muratore in the round of 32.
The win takes Appleton from 30th to 17th in the
Euro Tour Ranking
. Losing finalist Muratore stays in third. Mark Gray (England) holds on to the top position. Tony Drago (Malta) improves from fifth to second.
The tournament was played 10-12 April at the Holiday Inn Resort, Castel Voturno, Italy. It was the second event of seven on the 2008 Euro Tour. The next stop is the Dynamic German Open which runs from 22-24 May, 2008.
See also:Related posts: