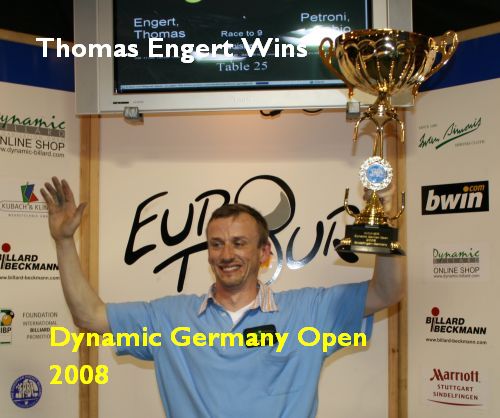 Germany's own Thomas Engert captured his ninth Euro Tour title by winning the
Dynamic Germany Open
.
In the final the eight-time European champion trounced Italy's Fabio Petroni 9-1 to win €6000. Petroni received €3800 for his runner-up finish.
In the semi-finals Engert defeated Karl Boyes (England) 9-3 while Petroni bested Finlands's Markus Juva 9-7.
This was Engert's ninth tournament win on the Euro Tour. He has previously won the 1992 Dutch Open, 1992 Hungarian Open, 1994 Germany Open, 1996 Netherlands Open, 1997 Spain Open, 1998 Polen Open, 2004 Italy Open and 2005 Swiss Open. Only his fellow Germans Ralf Souquet and Oliver Ortmann have more wins, with 13 each. The 35 wins means the German trio has won 37.6% of the 93 Euro Tour events contested.
Engert's only loss in the event came against Austria's Jasmin Ouschan. She was eventually beaten 9-6 by Gabriele Cimmino (Italy) in the last 32. Defending champion, England's world champion Daryl Peach lost 9-6 to Engert at the same stage.
The win takes Engert all the way from 11th to second in the
Euro Tour Ranking
. Losing finalist Petroni moves from 37th to 20th. Ouschan is the top female on the list, improving from 106th to 66th. Mark Gray (England) once again holds on to the top position. Former snooker great Tony Drago (Malta) drops from second to third.
The tournament was played 22-24 May at Billiardcenter "Die Drei", Sindelfingen, Germany. It was the third event of seven on the 2008 Euro Tour. The next stop is the Dynamic Austrian Open which runs from 12-14 June, 2008.
See also:Related posts: