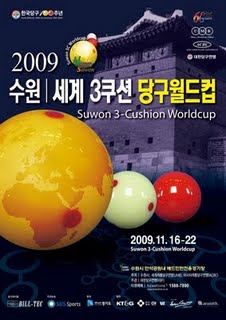 Frédéric Caudron (Belgium) won the
World Cup event in Suwon, South Korea
.
In a roller-coaster final Caudron edged Italy's 2008 world champion Marco Zanetti 3-2. The frame scores were 7-15, 15-7, 5-15, 15-1 and 15-11.
Home hope Kyung-Roul Kim and Swedish legend Torbjörn Blomdahl lost out in the semifinals.
This was the Belgian's second win of this season and eighth World Cup title in total. He received €5,500 for the victory and Zanetti got €3,500 for second place.
Defending champion Dick Jaspers from Belgium and recent world champion Filipos Kasidokostas (Greece) both went out in the last 16.
Jaspers had the highest general average among the 56 competitors with 2.153. Zanetti's 3.214 was the highest single match average. The Italian also tied Kasidokostas for highest run with 13.
Caudron extends his lead in the
World Cup Ranking
. Zanetti improves from 11th to fifth. Eddy Merckx (Belgium) swaps places with Martin Horn (Germany) to lie in second.
The win also moves him from third to second in the
World Players Ranking
, just one point behind the leader Jaspers. Zanetti's runner-up finish takes him from eighth to seventh. Daniel Sanchez (Spain) drops from second to third.
The event took place 17-22 November 2009 at the Manseok Park Badminton Gymnasium, Suwon, South Korea. It was the fourth of five events in the 2009 World Cup. The last event is in Hurghada, Egypt, 6-12 December 2009.
See also:Related posts: