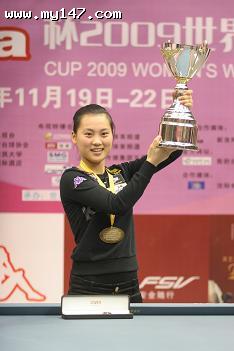 16-year-old Liu Shusha from China came out on top in the
2009 Kappa Women's World 9-Ball Championship
.
In the final she won the last eight games to defeat three-time runner-up Karen Corr (Ireland) 9-5. The comeback included five consecutive break-and-runs.
In the all-Chinese bronze match Xiotang Pan trounced Fu Xiofang 9-1.
Shushua edged 2007 champion Pan 9-8 in the semifinals and Korr beat Xiofang with the same score.
Defending champion Yuan-Chun Lin from Taiwan went out in the early rounds after losing 7-0 to Corr.
This was the sixth world title in a row for Asian players. The last non-Asian to win was four-time champion Allison Fisher (England) in 2001.
The tournament ran from 16-22 November, 2009, in Shenyang, China.
See also:Related posts: