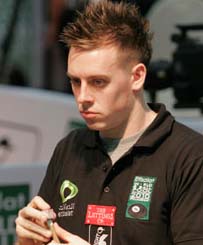 Karl Boyes from England won the
2010 Etisalat World 8-ball Pool Championship
.
In the final he edged
2008 World Straight Pool
champion Niels Feijen from Netherlands 13-12.
The Englishman lead the final from start to finish. At one point he was 11-4 up, before Feijen came back to make it 11-9.
In the semifinals Boyes beat Ruslan Chinakhov (Russia) 10-2 and Feijen defeated 2008 10-ball world champion Darren Appleton (England) 10-6.
Defending champion Ralf Souquet (Germany) lost 10-9 to Feijen in the last 16.
This was the fifth 8-ball world championship held. The previous four winners were Efren Reyes (Philippines), Chia-Ching Wu (Taiwan), Ronnie Alcano (Philippines) and Souquet. Boyes is the first champion to not previously having won the 9-ball title.
Once again the Brits impress at a major pool event. Peach was the
2007 world 9-ball
champion and Appleton won the
2008 World Ten Ball Championship
. In addition England came second in the
2008 World Cup of Pool
and Great Britain (with Boyes) won the
2010 Pool World Team Championship
.
The tournament was played 5-10 April 2010 in Fujairah, United Arab Emirates.
See also:
Related posts: