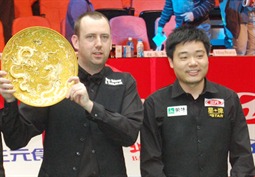 Mark Wlliams (Wales) won the
2010 Sanyuan Foods China Open
.
The two-time world champion won seven of the last eight frames in the final to defeat home favourite and 2005 winner Ding Junhui 10-6.
The Welshman received £55,000 for the victory and Junhui got £28,000 for finishing second.
Mark Allen (N.Ireland) and Allister Carter (England) lost out in the semifinals.
Neil Robertson made a career first 147 in his 5-1 loss to Peter Ebdon to claim the high break prize of £22,000.
This was the third China Open title for Williams and his 17th ranking title. His last ranking final was four years ago when he won
the 2006 edition of this event
.
The win lifts Williams from ninth to seventh in the
provisional rankings
. Junhui improves from seventh to fifth. The top two remain the same, with Ronnie O'Sullivan (England) in first and John Higgins (Scotland) in second. Carter swaps places with Robertson to sit in third.
The event took place at the Beijing Students University Stadium, China 29 March to 4 April, 2010. Next up on the snooker calendar is the Betfred.com World Championship which starts 17 April 2010.
See also:Related posts:Shameless plugs: