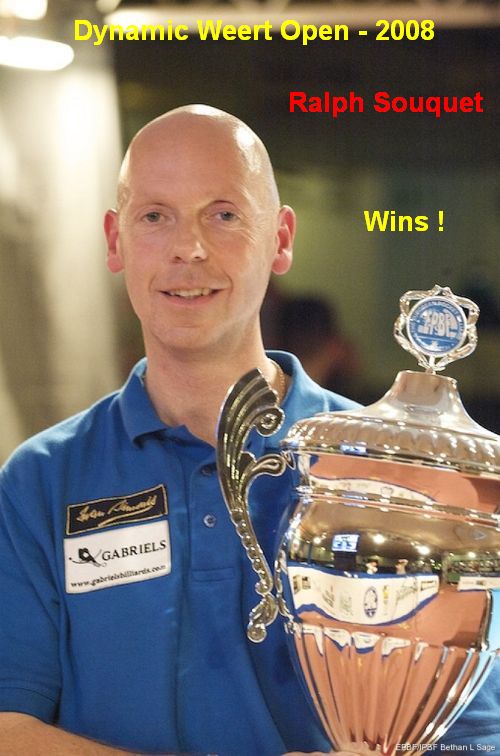 Germany's Ralf Souquet won his 14th Euro Tour title in the
Netherlands Open
.
In the final the 20-time Euro champ dominated fresh face Mehmet Cankurt (Turkey) 9-5. The victory was worth €5000. Cankurt's second place was worth €3300.
In the semi-finals Souquet defeated the home country's newly-crowned straight pool world champ Niels Feijen 9-6. Cankurt beat Russia's Konstantin Stepanov 9-6.
Souquet and Cankurt each lost exactly one match in the event – to each other. Cankurt beat Souquet 9-6 in the opening rounds. After that loss Souquet didn't look back, with scores of 9-1, 9-1, 9-4, 9-4, 9-6, and finally 9-5 versus Cankurt.
This was Souquet's first win in the Netherlands Open and 14th Euro Tour win overall, from 23 finals. It was his first since Belgium in 2003 though. He now has more wins than anyone on the
all-time list
. His long-time rival Oliver Ortmann has 13 wins. Ortmann was ousted by Souquet in the round of 32 in this event.
Defending champion, Imrad Majid from England lost 9-2 to Russian youngster Ruslan Chinahov in the round of 16.
The win takes Souquet from 20th to 6th in the
Euro Tour Ranking
. Losing finalist Cankurt moves from 48th to 24th. Mark Gray (England) once again holds on to the top position. Bruno Muratore (Italy) improves from third to second and Feijen moves from sixth to third.
The tournament was played 11-13 September at House of Billiards, Weert, Netherlands. It was the fifth event of seven on the 2008 Euro Tour. The next stop is the Dynamic Swiss Open which runs from 16-18 October, 2008.
See also:
Related posts: