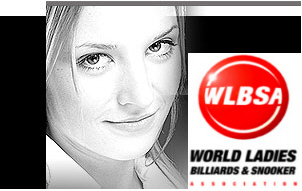 Reanne Evans from England successfully defended the
World Ladies Snooker Championship
.
In the final she beat compatriot Katie Henrick 5-3 to earn £800.
Evans recorded an 87 break in the final. This was the highest break of the tournament.
It was the third world title in a row for Evans. In 2005 she defeated Lynette Horsburgh (Scotland) 6-1 and last year she beat Emma Bonney (England) 5-3.
Eva Palmius beat Jenny Poulter 3-1 in the seniors final. There was no juniors event this year.
Pam Woods and Chris Sharpe beat Joanne Davies and Tina Owen-Sevilton 3-1 in the ladies doubles. Joe Perry and Leah Willett beat Gary Wilson and Pam Wood 3-1 in the mixed doubles final.
Chitra Majamairaj beat Emma Bonney 187-148 in the billiards final.
This championship is organized by the World Ladies Snooker & Billiards Association. It must not be confused with the
IBSF World Championship
.
The tournament was played at the Cambridge Snooker Centre, England, 31st March to 5th April, 2007.
See also:Related posts: