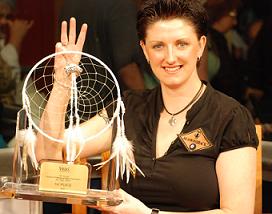 Kelly Fisher is the pool queen of San Diego. For the third consecutive year she came out on top in the
San Diego Classic
.
Fisher from England blanked Austria's Jasmin Ouschan 7-0 in the final. Xiaoting Pan (China) and Julie Kelly (Ireland) finished joint third.
Fisher said she hoped all events would be played in this arena. All her three WPBA titles have come here.
For the second tournament in a row neither of the two dominant players on tour made it to the semi-finals. Will this be the end of the dominance by Allison Fisher (England) and Karen Corr (Northern Ireland)?
Even though she won Fisher did not advance from her third place position in the
WPBA Rankings
. She moved closer to the leaders though. Now she's 5,750 points behind Allison and just 1,200 points behind Corr. Ouschan enters the list at No. 40.
The event took place from March 18-22 at the Viejas Casino, Alpine, California, USA. This was the third event of the WPBA season. Next up is the Enjoypool.com 9 Ball Championship, May 13-19.
See also:Related posts: