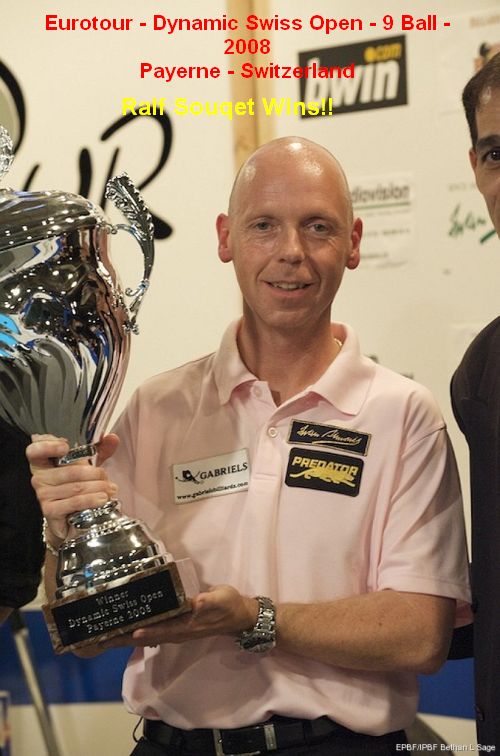 Ralf Souquet from Germany won his second successive Euro Tour title and 15th overall in the
2008 Swiss Open
.
In the final the 20-time Euro champ downed fellow German Christian Reimering 9-4. The victory was worth €5000. Reimering's second place was worth €3300.
In the semi-finals Souquet defeated England's Philip Burford 9-2. Reimering edged Nick van den Berg (Netherlands) 9-7.
Souquet was dominant in the event. He never lost more than six games in a match.
This was Souquet's second win in the Swiss Open and 15th Euro Tour win overall, from 24 finals. He also won last month's
Netherlands Open
. He has more wins than anyone on the
all-time list
. His long-time rival and fellow German Oliver Ortmann has 13 wins.
Souquet was the first to win back-to-back titles since Johnny Archer in 2000.
Defending champion and ranking leader going into the event, Mark Gray from England lost 9-4 to Reimering in the quarter-finals.
The win will take Souquet from sixth to first in the
Euro Tour Ranking
. Losing finalist Reimering moves from 16th to seventh. Bruno Muratore (Italy) holds on to second place and Niels Feijen (Netherlands) stays in third. Previous No.1 Gray falls to sixth.
The tournament was played 16-18 October at Poolbillard Center One Pocket, Payerne, Switzerland. It was the sixth event of seven on the 2008 Euro Tour. The last stop is the Dynamic Costa del Sol Open which runs from 4-7 December, 2008.
See also:Related posts: